Name: Wade Barrett
Height: 6'7"
Weight: 246 lbs
Age: 34
Hometown: Preston, England
Nickname: "Bad News"
Manager: None
ICWA Accomplishments: To fill out when you win a title or major match.
Non-IWCA Accomplishments:
FCW Florida Tag Team Champion
OVW Southern Tag Team Champion
5x WWE Intercontinental Champion
Face, Heel, or Tweener: Heel
Style of Wrestling: Brawler
Gimmick: Bare Knuckle Brawler/Bad News giver
ICWA Win-Draw-Loss Record: 0-0-0
Current ICWA Feud: Updates each time your character is in a feud.
Finisher:
The Wasteland (modified Fireman's Carry)
The Bullhammer (high impact elbow shot)
Appearance: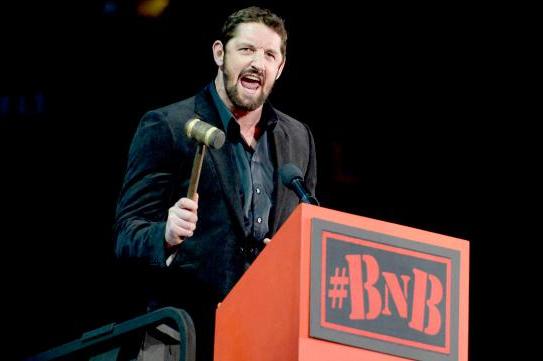 Entrance: Oi! Oi! Oi!- The Cockney Rejects
As his entrance theme "Oi! Oi! Oi!" by The Cockney Rejects plays, Wade makes his entrance. He keeps a heavy leather duster around his shoulders before crouching and shrugging it off. He stands, ready to fight, and crosses to the ring. Once inside the ring, he tosses an elbow in the manner of the Bullhammer and shouts boom, looking tough.
Introduction Promo:
The camera opens up on a solid brown podium against a blood red background. The podium is decorated with red lettering that states #BNB. As we pan up from the podium, we see Wade Barrett. He's well dressed, a silk suit with red tie. A sneer splays across his lips, Wade watching the camera before obviously being given the green light to go on.
Wade: My names Wade Barrett and I'm afraid I've got some bad news. 8smirks* You see, since I started wrestling I've vowed to become the finest at my craft. It took skill to take Irish Whip Wrestling by storm. FCW was another matter, same as WWE. Good news for me is I cemented myself as a powerful force. Bad news for both the WWE and the Intercontinental Wrestling Alliance, however. WWE's bad news is that I have stepped back from the organization. You see, me stepping back will have a negative effect on those women who so affectionately call themselves my fan girls, they will stop watching the WWE and they will stop buying my merchandise. This will have a negative effect on the way they conduct their business. That does equal good news for the ICWA. However, well, the ICWA does have it's own problem. The problem is that none of the competitors in the ICWA will be able to actually handle me. Thank you and goodnight!
The camera fades out on Wade's arrogant smirk.